Business Tools for Better Outcomes
Our range of low-code, no-code solutions are designed to empower your workforce, with minimum effort. From productivity time tracking tools for better accountability and billing, to data forensic platforms capable of ingesting millions of line of text in seconds, Adappt have developed a range of cutting edge business solutions that can significantly reduce wastage across your organisation. We understand that one-size doesn't always fit all, our products can be tailored to your specific needs
Designed to increase business productivity
Customisable to your specific needs
Our Software Solutions
Innovative Software Solutions for Your Success
Experience accelerated growth and success with our cutting-edge software solutions. Harness innovation to stay ahead of the competition and unlock your business' full potential.
Timanage
Highly Secure Workflow Software for Government, Lawyers, and Financial Services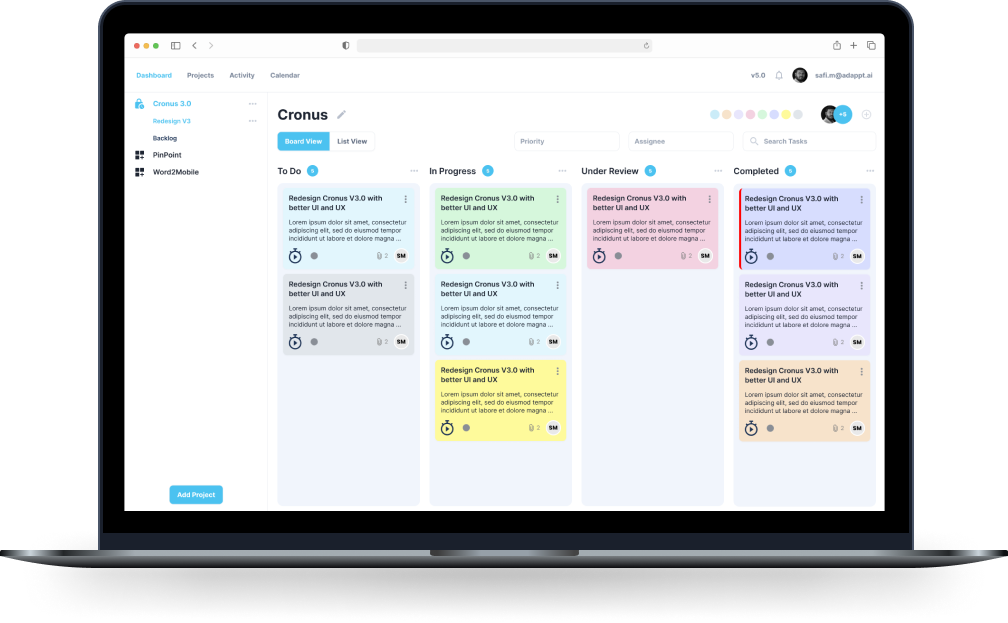 Timanage, developed by KnowYourDay, is an intelligent and intuitive application designed with utmost user-friendliness in mind. With its dynamic features, this product offers a valuable solution for efficiently organizing multiple projects on a daily basis. Experience the power of Timanage as it streamlines your workflow and enhances productivity like never before.
With a strong focus on data security, Timanage ensures the utmost protection of your valuable information through end-to-end encryption. Rest easy knowing that your data is safeguarded within this robust software application.
Explore more
Word 2 Mobile
The Fastest Way to Create Mobile & Tablet Apps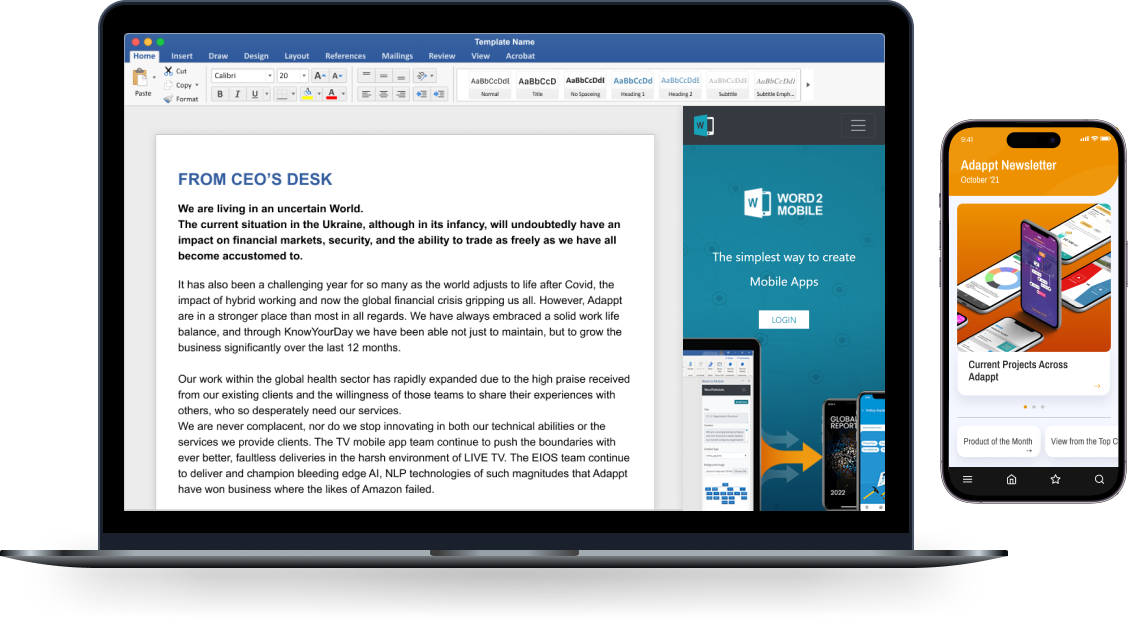 Experience the power of our Word Add-in that seamlessly converts your Word documents into captivating mobile applications. Break free from static documents and unlock new possibilities for accessibility and engagement.
With our innovative solution, you can transform your content into dynamic mobile experiences with just a few clicks. Share your documents as interactive apps, complete with intuitive navigation, multimedia elements, and enhanced functionality.
Impress your audience and deliver your content in a whole new way, bridging the gap between desktop and mobile platforms effortlessly.
Explore more
Pinpoint
Needle in haystack technology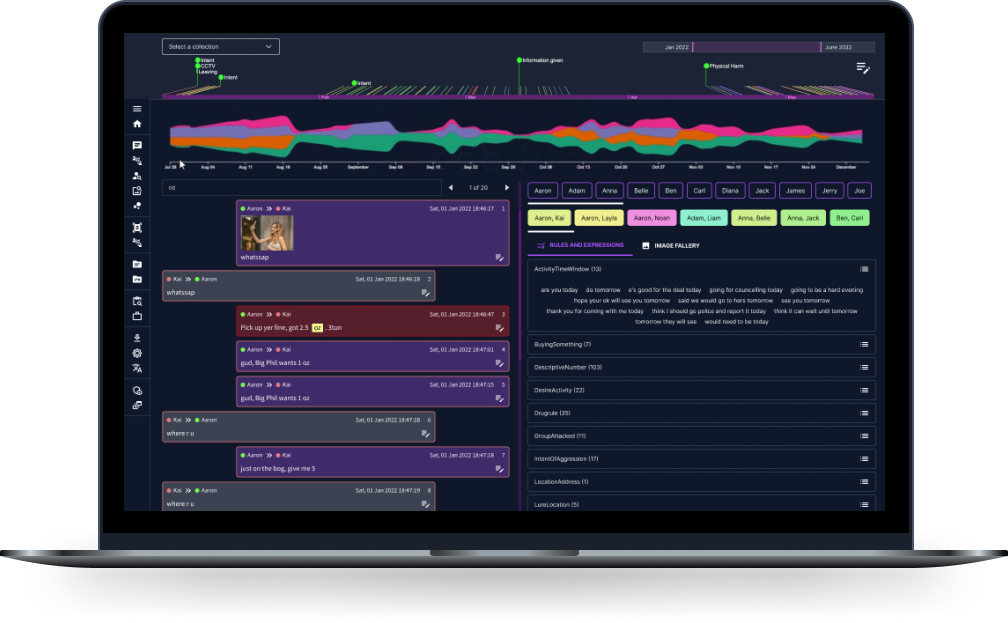 Pinpoint is a data analytical tool like no other. It is exceptionally scalable, highly configurable to your needs and intuitive to enable instant usability. Powered by comprehensive dictionaries and layered linguistic equations, Pinpoint is UK Home Office award winning technology, used to combat criminal behaviour via intercepted chat messages.
The technology is also deployed by the World Health Organisation to find disease outbreaks from open-source information.
Word to Print
Effortlessly convert your Word documents into print-ready PDFs with our innovative Word Add-in. Streamline your document workflow and ensure professional-quality printing with ease. Experience the convenience and efficiency of converting Word documents into ready-to-print PDFs with just a few clicks.
Excel to Print
Effortlessly transform your Excel documents into print-ready PDFs with our powerful Excel Add-in. With just a few clicks, you can convert your spreadsheets into professionally formatted PDF files, ready for printing or distribution. Streamline your document workflow and ensure your Excel files are presented flawlessly in a PDF format with our innovative solution.
Why work with us
History
Noteworthy software development experience for reliable IT solutions.
Team
Success-driven & skilled software development experts who listen to level up your business.
Clients
Our clients around the world trust Adappt for high quality IT services.
Experience
If you have a challenge, we have probably already solved it.
What our clients say about us
Here's what our long-term partners have to say about working with Adappt.

I have been working with Adappt for over 7 years now and their professionalism, attention to detail and exceptional technical capacities has made it so easy to always deliver on time and achieve excellence in our ongoing collaboration.
Sameera Suri
GOARN - Operational Support Team

The Adappt team have been vital in making sure that we can push the boundaries of what's possible within our formats. Our partnership with Adappt has meant that Banijay have dominated the Norwegian and Danish entertainment app charts.
Andy Hoskings
Head of Banijay Mobile

We are very grateful to the Adappt team for their support in developing a touch screen interaction display on WHO rehabilitation. Adappt were a pleasure to work with; they are extremely professional, flexible and efficient, and were able to provide practical and creative solutions to our team's project concept. Despite our very tight deadline, Adappt were able to deliver the end product on time.
Elaine Marks
Technical Officer – Rehabilitation

We have been extremely happy with Adappt's work; they are responsive, understanding, professional and at the same time pleasant people to work with.
Hazim Timimi
Data Manager Global TB Programme

Nothing is impossible when working with Adappt. If as a project manager you have a clear objective and vision, Adappt will have the best technological solution, the right aesthetic effect, and the desired usability that you need for the project to be a success. Thank you Adappt team for being so client oriented, and such an efficient and effective partner.
Elena Altieri
Technical Officer - Road Safety Team

Working with Adappt has been a wonderful experience. They always quickly understand our goals and work with us to ensure the project met our objectives. Their friendly approach, experience, flexibility and strong project management always keeps projects on track.
Kathryn Alberti
Technical Officer – GTFCC

Thank you for your guidance, innovation and the overall great work you have done with our Malaria app. It has been a pleasure working with your team - a very resourceful, flexible and competent group.
Ryan Williams
Technical Officer – Global Malaria Programme

Adappt is an important part of our Vivace Community. We admire their innovative, flexible, collaborative approach and respect their work ethic and social values. They willingly share their time and expertise to work on mission critical commissions, Impact Labs and campaigns. Attending our events has also enabled them to meet fellow members, share knowledge and ideas and work creatively together as rainbow teams, ensuring we thrive together, as a community.
Camilla Davies
Community Engagement Manager – ACE (Accelerated Capability Environment)

I am always impressed with the professionalism, expertise, imagination and sheer enthusiasm of the people at Adappt, which has made it such a pleasure to work with them on a project to promote cultural heritage protection.
Marcel Marée
Dept of Egypt & Sudan - The British Museum

WHO engaged Adappt to perform solution architecture and user experience design for a cutting edge low-code platform targeting crisis management. Adappt performed stellar work on both counts -- solid architecture and beautiful user designs. We look forward to future collaboration.
Jered Markoff
Chief Technology Officer, Emergency Operations, World Health Organization